TEAMBUILDING ACTIVITIES
Action Teams is INNOVATION. We deliver TAILORED SOLUTION. We deliver ENGAGING teambuilding activities with an amazing experience for 8 – 600 participants. Our integrity and achievement is trusted by our clients for over 2 decades.
COVID-19
We understand that the COVID-19 outbreak is still evolving daily. We would like to assure you that Action Teams understands the seriousness of this and will ensure that the necessary precautions are implemented with every program organised.
We commit to upholding good sanitation and hygiene practices while delivering a safe, fun and memorable experience for you and your team.
Let us help your company to achieve and appreciate:
Creativity and Innovation
Respecting Each Other Views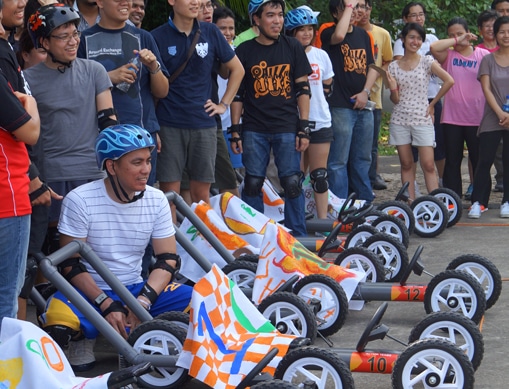 CORPORATE GRAND PRIX
To design a Racecar ( Push-kart ) from building materials utilizing PVC Plastic Pipes, Connectors, Wheels, Markers, Steering Parts and more. Teams will be briefed on the challenge and will be assisted throughout the process of assembling the racecars. Since there is no "right" way to build these push- karts, except with a diagram that's provided. Participants will be encouraged to design and build their push-karts integrating previously generated knowledge and wisdom with this new experience.
Group Size: 8 – 600
Intensity Level: Moderate
Learning Focus: Improve Communications, Teamwork, Trust & Integrity, Compliance, Creativity and Innovation
CLASH OF THE CLANS
Clans must compete with rival clans and be the first to rescue their captured queens from the Castle of Doom that is surrounded by high walls and gates. They will have to construct a Moat, Catapult with ammunitions and a Rope Chair for the rescue mission. Each team will also have a Witch and Warriors to defend the Moat. The first clan to bring their queen to the throne will be the winner.
Group Size: 20 – 600
Intensity Level: Low
Learning Focus: Tap on teams' Creativity, using Initiative, Collaboration, Co-operation, Communication and Cross-functional between team members.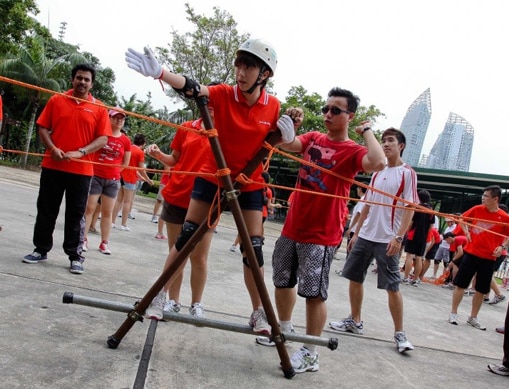 'A' MAZING
A collaboration of 2 teams working in unison and "partnering to achieve a 'win-win' situation. Teams will have to build a structure resembling like the letter 'A'.
Members will be divided and connected by ropes to the "A" frame structure.
Optimizing and understanding the customer's needs and that their requirements are always 'evolving" and delivering the requirements in the shortest possible time.
Forward thinking teams are to be readily agile in project management of their process.
Group Size: 8 and above
Intensity Level: Moderate
Learning Focus: Partnership, Agility, Customer Centric, Change Management, Collaboration and Trust.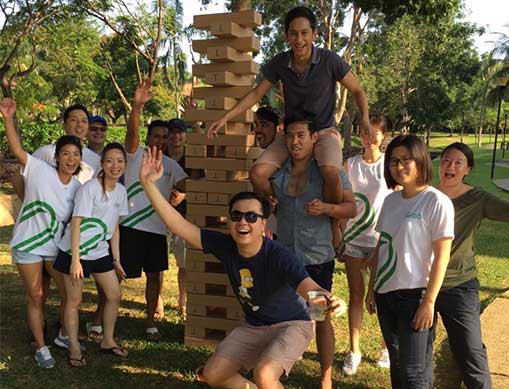 JENGA XXL
Each team will have to build the tallest structure using the Jenga Blocks. The twist : there will be a saboteur amongst the team members. The team will have to decide who this person is and vote him/her out of play. Once the structure is completed, the teams will proceed to compete in Jenga XXL.
Group Size: 8 – 600
Intensity Level: Low
Learning Focus: Big Group Activity, Collaboration, Knowledge Sharing and Best Practices in order to accelerate result.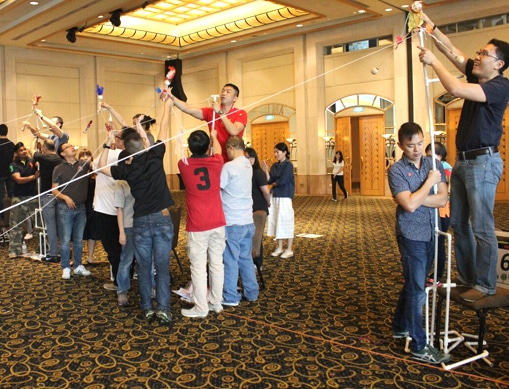 SCALE NEW HEIGHTS AND ROPE RUNNER
Each team will construct a 2.5 m high structure. Concurrently each team will also be designing and connecting a "rope-runner" which will traverse across to the centre of the ballroom.
There will be a competition of the fastest "rope-runner" and to better their timing in the qualifying and heats and the "final" showdown of the fastest and most improved rope-runner.
Group Size: 8 – 600
Intensity Level: Low
Learning Focus: Business Solutions, Seamlessness, Critical-Collaboration, Strategic-Planning and Speed of Delivery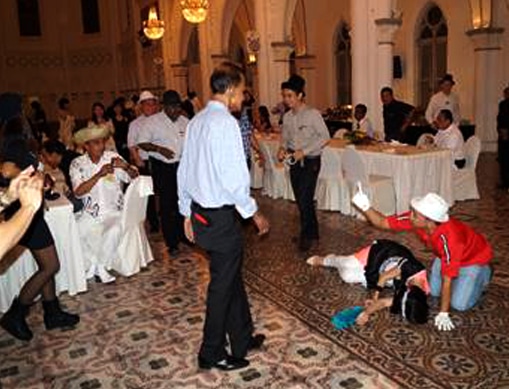 MURDER MYSTERY
Murder Mystery Team Building is a fun and effective way to bring together staff to solve a unique puzzle – who is the murderer? The program gets the team to think and working together to solve clues and interacting with each other.
Participants will be given detailed character background in advance. You will have goals and secret identity. You are the middle of the action in murder mystery and no one knows how the game will end.
Group Size: 18 – 40
Intensity Level: Low
Learning Focus: Improve Communications, Teamwork, Trust & Integrity, Critical-Collaboration and Strategic-Planning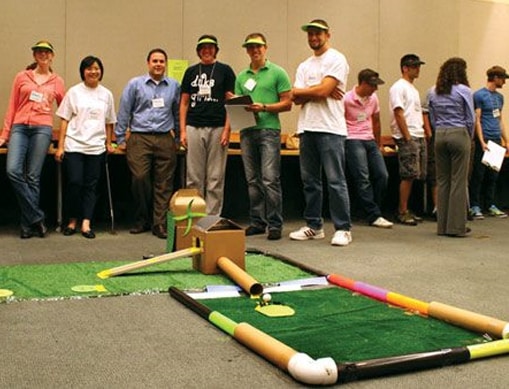 PUTT FOR GLORY
A strategic corporate golf challenge.
Teams will have to plan and design a section of a golf course…to research on how golf courses are created and why they are have different fairways, bunkers and challenges on them and number of strokes required to complete each section of the course.
"Par" followed with a number means if a team can complete the section in that number of strokes. However the challenge for each team is that if they can do better "less" number of strokes instead of the required number.
A surprise element of "change" is implemented for teams to attempt another team's section instead of their own. Teams only win with the least number of strokes taken to complete the course.
Group Size: 20 and above
Intensity Level: Low
Learning Focus: Understanding and exceeding the industries requirements and dynamics, innovate and align and adapting to the changing trends of the market.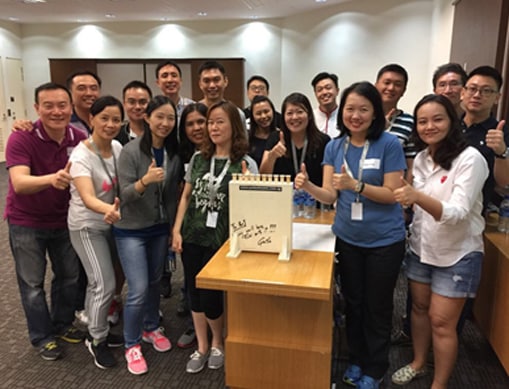 XYLOPHONE
Each team will be given a rack and wooden sticks to make a Xylophone. This will be place away from the team. Only one team member at a time will approach the rack by placing or removing 2 sticks from the rack. The team will have to work together based on descriptions given by each team member.
Group Size: 8 – 50
Intensity Level: Low
Learning Focus: Focus on the Importance of Planning, Clear Communication among team members, Time Management and Problem Solving.
We are always ready to assist our clients to source for activity venues, food & beverage, coach transfer or photography to make the event more memorable!