Singapore's No 1 Team Building and Team Bonding Company With 21 Years Experience
Action Teams Pte Ltd is the leading Team Building organiser in Singapore since 1996. We specialise in outdoor and indoor team building, team bonding ice breakers & energisers, offsite and retreat programs to cultivate team spirit and participative culture. Our programs are designed to create value in your organisation.
Experience Our Expertise
Tailored & Personalized Programs to Meet Your Objectives & Requirements
Fun & Interactive Activities
Experiential Learning & Debrief
Return of Investment
WHO WE ARE
Since 1996, Action Teams Pte Ltd has lead successful corporate team building activities resulting in experiences which change the way corporate teams face challenges and take advantage of opportunities. Action Teams specialises in Teambuilding Experiential Training Programs for outdoor team building and indoor team building in Singapore, Australia, China, Dubai, Hong Kong, Indonesia..
Team Building and Team Bonding
Are They The Same or Are They Different
Team bonding and team building might sound like one and the same thing, but they are not. But they also have many things in common. They are both aimed towards the same goal. They often involve activities that are interchangeable. In difference however, two points stand out. First is activity type, and another is facilitation.
While on one hand team building strives to incorporate fun activities and games that have potential learning outcome to meet the objectives, on the other hand, it employs facilitators to help with the team members. They work on the ground level helping participants connect and collaborate through clear and consistent communication. That, in other words is an enactment of the way a team is supposed to function on the office floor.
While all this is team building, team bonding is mixing with one another and having a good time outside of work to ensure a harmonious relationship at work.
What Makes New Ideas Difficult to Produce
New ideas are galore in a new team, but over the course of a few years, they become fewer and fewer. That, aside from being frustrating, is a huge encumbrance in the way of productivity. A functional team is one that constantly churns out new and original ideas. But every team experiences a slack every now and then whereupon the ideas get more insipid than inspired. Good thing is it is both common and fixable.
Creativity, like popularity is not a thing promised for life. There are times when a certain individual experience an abundance of it, while in other times, it seems so scant that they start to doubt if they ever had it. So why do teams, despite having so many different brains as their engines go into creative slumps? What stands in the way of generating new ideas?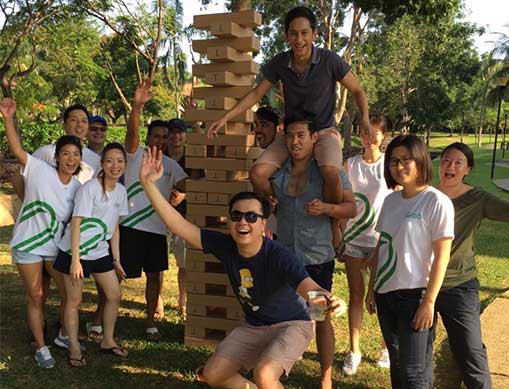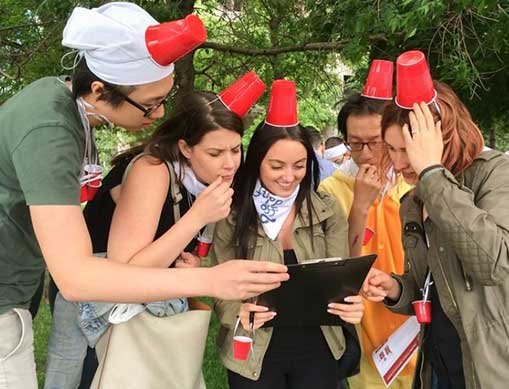 The answer is pretty much in your face. It is the sterile work environment, the grinding nature of workday schedules, tight shifts and the crushing demand of the job. Little by littles, these things that are parts and parcels of a profession erode away the creativity of the mind till the point where delivering an original idea becomes a matter of luck.
What your team needs in times like this is a change, a break from the day to day cycle. A day out in the nature or just a fun few hours at an entertainment park could do miracles to reverse creative blocks. To that effect, we fashion activities that uplift participants and break a dry spell in just a few minutes. Out team building activities are fashioned to break barriers, tickle creativity, open wide the window of communication, enrich professional relationships and inspire new ideas.
Team Building with Action Teams
Action Teams brings to the offices of Singapore a wide selection of result-driven team building activities that involve games and workshops that salvage teams out of creative blocks. Our team building activities are designs to enhance creativity, inspire innovation, improve communication and promote collaboration between individuals and on the whole energize the participants for a new run of professional productivity.
At Action Teams, we believe that it takes more than just benefits and incentives to keep the morale among employees high. One also needs refresher activities that not only offer a respite from the cyclical pattern of the work routine, but also enables participants to spend a fun-filled day with their coworkers and make memories with them to cherish through time.
We engage our participants in events that are engineered to hype their attention, promote their problem-solving skills, remedy old disputes between team members and improve their responsiveness, all of which converge to dial up the productivity of any team.
OUR SERVICES
At Action Teams, our job is to offer a solution through which a diverse and big group of people can work together at optimum performance. Our solutions are modern and result-assured. Our approach to team building is a mix of fun and learning. That's why we have on our catalogue all kinds of team building exercises, from energizers to ice breakers, and more. We bring to the employers, indoor and outdoor programs and offside and retreat events that foster a participative spirit and culture in the team. Through our team building programs, we try to inculcate values in teams that in turn create value for the concerned organizations.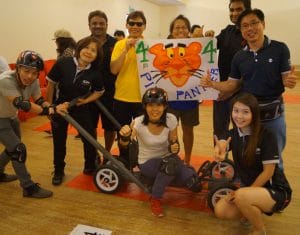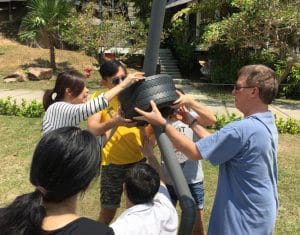 Trusted by employers across Singapore, we aim to present to teams an opportunity to grow constantly and attain new heights. For this, we depend on our programs to identify talents, channel strengths and inspire creativity. With us, your team will learn from the best. To come to your aid, we bring to you a rich variety of services that are both high-end and promising.
TESTIMONIALS
"The program went well and was well received by participants. Most commented that it was different from past programs they participated in and was the most interesting and relevant to our objective of teambuilding. Raj was a very good facilitator with very clear instructions, spoke fluently which is important to me."

ExxonMobil
"The program went well. Raj and his team did a great job. Raj is really good. He met up with my Boss and used the key words/messages given to him to motivate the team.

Also keep the team in good spirit with loads of laughter and fun."

Audi
"I can use one word to describe…WOW! This was the best run team building event I have ever been a part of. Raj, the event controller was great!. He made it fun, taught us all great lessons on Team Building, Unity, Coordination, Trust and Communication. I will highly recommend Action Teams as they will bring your team to a higher level!!"

Chiropractic First
"Feedback we got – EXECELLENT! They all enjoyed it so I like to thank you, Colin, Raj and the rest for making the event successful. We will call you guys again if August event is confirm."
"The event went well. The team enjoyed themselves and have a good break from their busy schedule.
Good messages on communication, trust, leadership have also been shared during the session."

Unilever
"The program was fantastic, and Raj did an excellent job.

I received very positive feedback from the team, who said, I was surprised at how good it was. They didn't expect it.

Could you pls pass my thanks to Raj – he's awesome.
Claudine, Thanks for your assistance on this as well.

VISA
"Thank you for having us for the past two days at Marina Barrage and Resort World Sentosa. Just wanted to let you know what a great time we had with you guys. You folks were just fantastic and it was so nice of you to have taken care of our program and facilities.

NUS
SATISFIED & REPEAT CLIENTS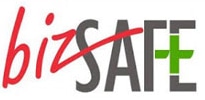 Certified BizSAFE by Skills Future Singapore